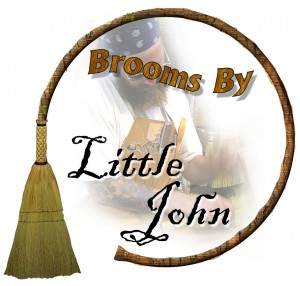 Little John's Brooms are 100% handcrafted; he does not use machinery. His rustic handmade brooms are from all natural broom corn and hand selected handles of varying types of wood. He harvests many of the handles and has grown some of the broomcorn himself. As a result each broom has it's own personality.
John is always on the look out for the perfect piece of wood for broom handles. Some are adorned with carvings and others are made with shed antlers and bones. Art brooms are made from a wide variety of found objects as well as other natural materials. Handmade brooms can also be crafted to order, if you have a special piece of wood or other material John can make your broom to order; he can tye a broom to almost anything.
Blacksmiths! You can see examples here…..
To view the full line of Little John's brooms Click Here
John wrote an article for Mother Earth News a while back. CLICK HERE to read it.
---
Little John makes fancy sweeper brooms, spirit brooms with a carved face, a spectrum of beautiful wisk brooms, cobwebbers, double brooms and much more! All handmade brooms with handles will have Little John's mark so you'll always know where it came from. Little John is based in Sheboygan, Wisconsin.
Please note that long handled brooms have an oversize surcharge. All packages are sent through the US Postal Service and have this oversized surcharge calculated in the rate that you will see in the shopping cart. Unless you request insurance and/or confirmation of delivery this will not be provided. These services require an extra charge, and I will be happy to provide them and bill you, if you just let me know when you place your order.
Orders to Alaska and Hawaii and may take longer to arrive. If you are in either of these locations and need expedited shipping please contact me directly to make arrangements.
*Typical time frame for you to receive your handmade broom may be up to 3 weeks depending on availability, season, custom order, etc.